This post is written by Christopher Lehman and posted on behalf of The Educator Collaborative community.
---
The Educator Collaborative supports a Clean Dream Act.
We ask you join us in demanding Congress protect 800,000 children and young adults, including 20,000 teachers, who are at risk of deportation.
Join educators, authors, and illustrators in demanding Congress act. Learn more at DreamForOurStudents.wordpress.com. #DreamForOurStudents        Details below.
---
At the NCTE Annual Convention, Nancy Steineke shared a photo from the traveling exhibition, "They Came for Me," documenting the deportation and incarceration of Japanese-Americans in the United States.
The photo she shared can be seen here (at the exhibition's next stop in NYC). It is of children, at school, saluting the flag. She explained that this photo was taken only days before the Japanese-American students pictured here were stolen from their homes, by the U.S. government and either deported or incarcerated in "Internment Camps."
We look back at the actions of the President and U.S. government during this dark period and are horrified by our nation's inhumanity. In fact, in 1988, Ronald Reagan signed Public Law 100-383 which granted monetary reparations to those interned and publicly stated the internment was "without adequate security reasons" and which was "motivated largely by racial prejudice, wartime hysteria, and a failure of political leadership."
These failures destroyed lives in the 1940s and took 40 years to fully acknowledge.
Today, we look back and, I am sure, all believe: "if I were there, I would have done something to stop it."
Now, in 2017, we are in another dangerous time in our political and social landscape. Yet again our government is "motivated largely by racial prejudice, wartime hysteria, and a failure of political leadership."
You likely know that with the unjustified and swift ending of the DACA program, now 800,000 children and young adults — 7 times more individuals than those horrifically interned in the 1940s — are at risk of incarceration and deportation.
800,000. Children and Young Adults.
Of those, approximately 20,000 are educators.
We are educators. Our children, our colleagues, our nation needs us. We must act.
Immigrants rights organizations have been fighting for a Dream Act before and now after the decision to end the DACA program. Groups such as United We Dream and the Movimiento Consecha Seed Project are led by undocumented immigrant youth, young men and women who risk deportation but face the challenge head on. Through public action, organizing, and, when necessary, civil disobedience, they continue to pressure congress.
They need us to help amplify their concerns and stand beside them with action.
There are many ways to help, here is one:
I have joined with educators, authors, and illustrators—and am asking you join us, too—to place increased pressure on Congress in the final weeks of this session. We have only until December 15th.
Go to DreamForOurStudents.wordpress.com to learn about this advocacy action, how to help, and you can fill out a form to be a public signer as well. We need you.
Here is a copy of the letter, click to download. Please share widely. On social media please use #DreamForOurStudents and #DreamActNow.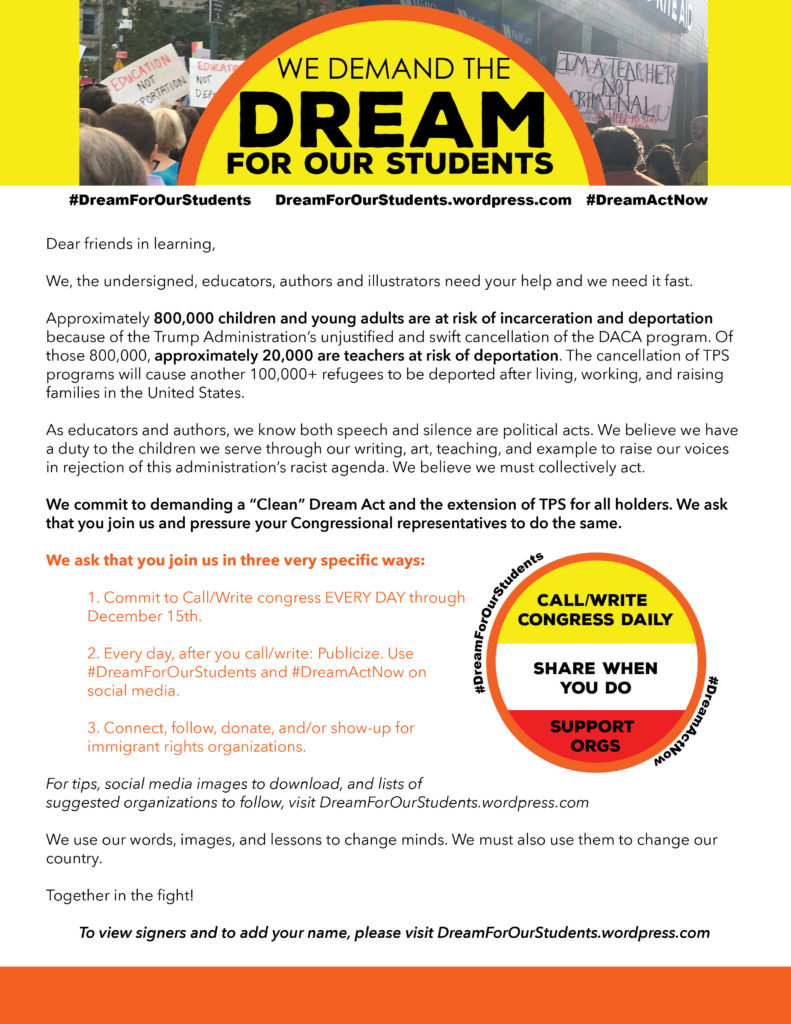 Thank you for taking this call for action to heart. Thank you for sharing DreamForOurStudents.wordpress.org with colleagues and for your action during the final days of the Congressional session.
Sin Miedo.