The Educator Collaborative is proud to join in the Educator Equity pledge.
We know the work needed to upend the structural biases within our profession will take collective, critical, and ongoing effort. Business as usual will not liberate. Signing or sharing a pledge only holds meaning if it includes action. So, we pledge to continue our work with renewed energy.
We have been, continue to, and pledge to recommit to engaging in internal, critical reflections and outward actions, including:
supporting our members in examining bias, privilege, and power;
studying and working to enact anti-racist, anti-biased practices and pedagogy;
raising up the work of critical voices often under-represented in literacy professional development;
and speaking up with informed perspectives to support children, educators, and families.
As well as engaging in additional work described in the pledge.
We are proud to join this pledge, will continue to self-examine towards its goals, and encourage others to do the same—particularly white educators and those with privileged voices in various spaces (including education publishers, administrators, popular authors, and conference organizers).
Read the Educator Equity Pledge below. You can click here to download a copy.
We also encourage you to engage with the work of Shana V. White, Val Brown, EduColor Movement, American Indians in Children's Literature, Disrupt Texts, among others. We recommend reading No More Culturally Irrelevant Teaching; Culturally Responsive Teaching and The Brain; and engaging with the #ClearTheAir community for further reads and thoughtful conversation.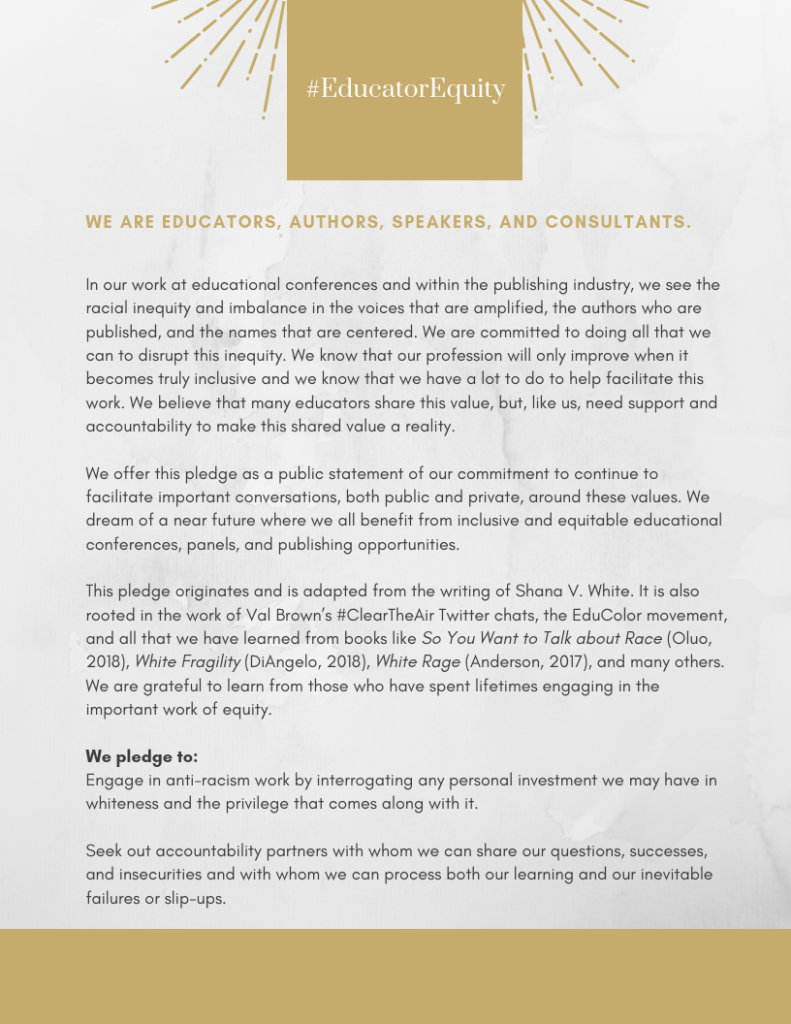 Those engaging with this pledge are using #EducatorEquity on social media to pledge, give feedback, or share resources.