By Rebekah O'Dell and Allison Marchetti
On April 2nd, Rebekah and Allison will be presenting during session one of our spring gathering. You can watch them at 11:00 a.m EST. Their presentation is titled: "Notebook Time: Bringing Discovery and Play Back into the Writing Classroom."
Every year, on the first day of school, we end class by handing a Post-It note to each student and inviting them to pose an anonymous question — about our class, about our outside-of-school lives, about us as teachers, about anything they would like.
They are timid at first, wondering if the free and open invitation is real. Then, after a few moments, they begin pouring out their wonderings. And many of these wonderings are fears:
"How much writing will we do this year?"
"Are you a hard grader?"
"Will writing count as a big portion of our grade in this class?"
"How do you want me to write?"
"What kind of writing do you like?"
Somehow, somewhere in their education, they have learned that writing has a formula that is regulated by a series of invisible checklists. They have learned that writing is black or white, right or wrong. And they have learned that those metrics change teacher to teacher.
And have you read the writing by these same students? It's careful. Strategic. Stilted. Lifeless. Inauthentic.
This isn't what we want for our student writers. We want them to be daring explorers and brave pioneers of their own experiences and ideas. We want them to take on new territory, experiment with words, even take a risk that doesn't pan out every once in awhile.  In A Writer Teaches Writing, Donald Murray asserts that "behind each writing purpose is the secret excitement of discovery: the word, the line, the sentence, the page that achieves its own life and its own meaning. The first responsibility of the writing teacher is to [help students] experience this essential surprise" (8).
We can help our students embrace this surprise — the essential discovery in the act of writing — by teaching them how to play. We know that play is essential to child development. It's also essential to writer development. Consistent, risk-free time to experiment and play with writing sparks imagination, develops voice, and builds writerly confidence. For us, this is daily Notebook Time.
Notebook Time is a set block of time (for us, the first 5-10 minutes of class every day) for students to experiment with ideas, forms, and words in their writer's notebooks. We invite students to explore charts, graphs, sentences, poems, and more during the first moments of class. Notebook Time says "Drop everything and write." It also says, "Slow down, take a deep breath, notice." Students often arrive to class flustered, chaotic, having raced from one end of campus to the other. Notebook Time capitalizes on that little bit of crazy while allowing transitional time. We find that students are often more open to play and experimentation at the beginning of class, before they get deep into the work.
We tend to gravitate towards five different types of notebook times, and we rotate through the types each week so students get something different every day.
Sentence Study –– Students mimic a well crafted sentence found in your own reading or class texts.
Adaptable Poems –– Students mirror the structure of a poem or write something based on a topic or theme the poem presents.
Raw Data –– Students study a graph, chart, or set of data and draw conclusions. They answer questions like: What does it say? What does it not say? What does it make you wonder? What writing ideas emerge from this data?
Inspiring Video or Other Media –– Student watch a short film, Youtube video, or spoken word poem that introduces big ideas or exposes them to new experiences they can write about/imagine. Students can respond to the questions listed above for raw data or write something independently.
Writing Territories –– At the beginning of the year, students fill a page with their interests, passions, and obsessions ("territories"). This list serves as inspiration for writing projects throughout the year. Students pick a territory on this list and write without censoring.
At the end of Notebook Time, students are invited to share their ideas with one another. Some of these ideas become writing projects — students return to them in our next study and make them into more substantial pieces. Other ideas remain in their notebooks for perpetuity.
Regardless of how far the idea travels, Notebook Time is a powerful exercise in creativity and play. For during Notebook Time, students try on ideas, respond to words and poems they might never look twice at, make their words sound more like another writer's, then make their words sound more like themselves, explore that painful story inside drawn out by the poem, think about that controversial topic that is presented in the chart but forbidden during dinner table conversation… In short, students can live a thousand lives during Notebook Time, and are strong thinkers, writers, and creators for it.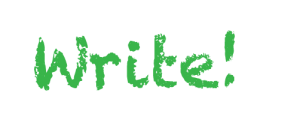 Would you like to write for the Community Blog?  We'd love to have you!
Visit Write for Us to learn how!