post by The Educator Collaborator Associate Deirdre Spollen-LaRaia
I've always found the practice of taking learning walks to be exhilarating and inspiring. Think about it, spending time in classrooms without the stress of formal feedback and observations, but instead looking at student work, watching students engage with content material, and seeing and experiencing the magic of teachers as they facilitate learning for students. This past year, I focused on deepening my purpose of learning walks through a lens that celebrates the nuances of teaching and learning while seeking to build practices and grow strategies amongst our school community. By explicitly naming and writing down practices and strategies that worked for our students and teachers during these walks, I highlighted best practices that could potentially be replicated across classrooms. 
In a recent walk and talk podcast by Weight Watchers with Matthew McConaughey,Matthew McConaughey's WW Digital 360 Exclusive – "Chase Your Best Self" (2021), he shared strategies about setting goals, taking chances and overcoming setbacks. This would probably not be your go to professional podcast, yet there were two takeaways that stood out to me as I reflected on our past school year and anxiously prepare for September: "Write it Down" and "Dissect Success". 
As many educators do, we take time to reflect on the past year in order to discern what worked well and consider areas of opportunities for improvement in our classrooms and buildings. In preparing for the school year ahead, I took time to reflect on my previous learning walks as a way to dissect our successes, write down the obstacles we need to overcome, and plan for opening the year building upon the lessons we learned. Here is a snapshot of my learning walk observations that highlight the start of the school year (September and October), to support a successful opening. 
September should begin with a focus on building community within our classrooms and school, learning how collaboration amongst peers and colleagues benefits our success, and getting back to routines and practices that set the stage for learning. As we prepare to open our classrooms this year, it is important to keep in mind that everyone is unique, and all students contribute to the larger community. Take time in those first few weeks to honor, celebrate, and share individual identities within your classroom. 
In Textured Teaching by Lorena Escoto German Textured Teaching by Lorena Escoto German (2021), she shares the importance of recognizing and respecting the communities that we are a part of (families, cities, cultures) and the necessity of recognizing and valuing each other's voices, particularly as we come together as a class (and school). Throughout my learning walks, I noticed celebrations of individual students, as they shared information about their backgrounds and their hopes and fears for the year ahead. Teachers also spent time on team building activities that focused on Understanding Respect and Diversity and clearly outlining what respect means and what it looks like amongst peers and in our school.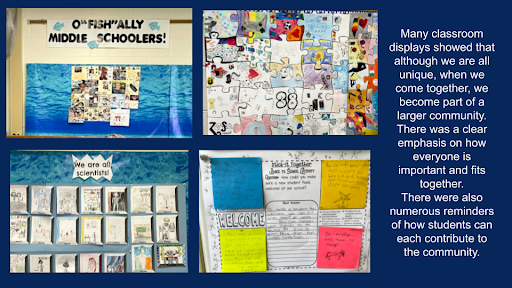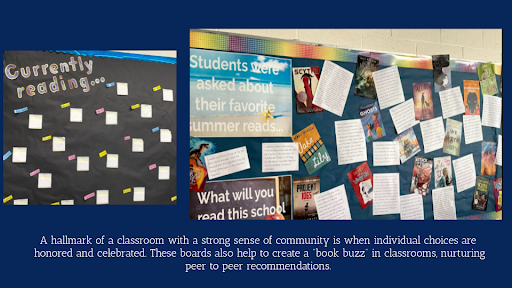 Consider learning routines and structures that include a focus on Social Emotional Learning (SEL). Throughout my learning walks this past year, classrooms that built in time at the start of the period with focused activities like Smile, Frown, Pass (Burr, 2021) exhibited strong classroom communities with positive relationships amongst peers and teachers that allowed for all students' voices to be heard and provided predictable structures for students to prepare for learning. The research is replete with the benefits for emphasizing SEL in our classrooms and schools, and observing student behaviors over the course of the past year, it is essential to build routines with an SEL focus into our day. 
In my learning walks, I found students that were invited to create and contribute to their learning environment. Simple structures such as posting a message to the class, writing the agenda for the period, charting information as a shared writing, or contributing to story walls by writing on post-its, made it clear that students' voices were a large part of the classroom, and as their learning throughout the year is ongoing, it is essential that our students tell the story of their own masteries and struggles through work that is showcased and even messy as they develop and build understanding.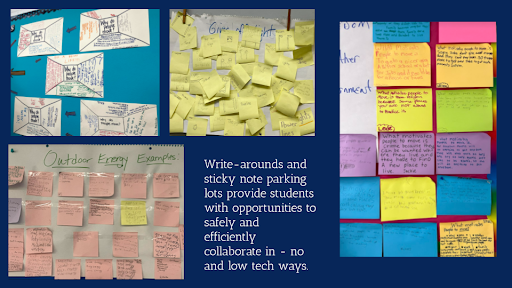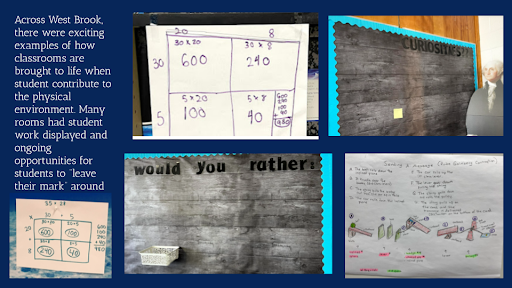 Finally, organization and accessibility of learning tools as students settle into their environment is important. Learning tools that are clearly organized, inviting, and available to all students enables students to advocate for themselves, while allowing the teacher to spend time where it truly matters – getting to know students, building relationships, and fostering community. Co-creating teaching charts also allows students to see their voice in the classroom and provides a road map and reminders for expectations.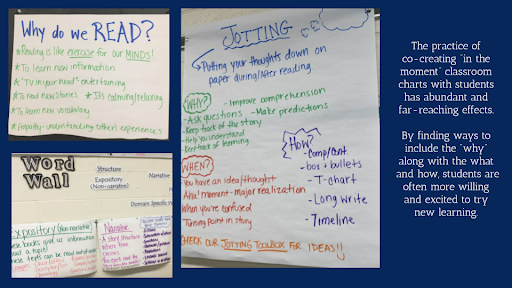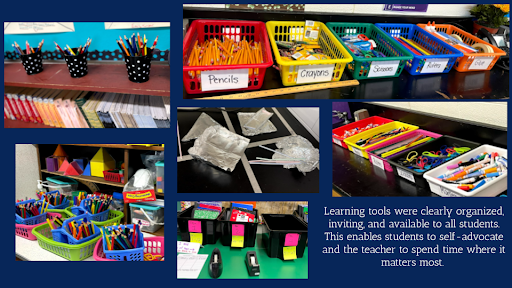 After the year that we have endured, it's hard to think about September and starting over again. Yet, it is important to remember our past successes so we may replicate the positive experiences that lend themselves to celebrating and welcoming a new community of learners for the 2022-2023 school year!