post by Jen Wilson, The Educator Collaborative Associate
Connecting Readers to Characters Experiencing Mental Health Disorders
According to an infographic produced by the National Institute of Mental Illness, 20 percent of teens have a serious mental condition, and fifty percent of all mental illnesses began by age 14. One of the effects of mental illness is a tendency to isolate and not interact with others, which often exacerbates the symptoms of the mental illness. The family and loved ones of the person with a mental illness can also feel isolated and helpless in their attempt to support them. Using Rudine Sims Bishop's theory of mirrors, windows, and sliding glass doors provides us with a lens into the way the reading of books with characters that are experiencing a mental illness can be beneficial to those with a mental illness and the people supporting them.
According to Kimeberley Moran's blog post, which is based upon the work of Dr. Bishop, books can be windows or mirrors. A mirror text is one in which "children can find themselves, their families, and their communities reflected and valued." A book that is a window helps the reader understand people or communities that are different from them. 
This theory can be applied to texts in which a major character is experiencing a mental illness or living with someone that is experiencing a mental illness. By using books in this way, we can help the individual with the mental illness feel less alone by seeing their experiences reflected back to them and valued and can help them learn how a fictional character copes with a mental illness. The people who care for the person with the mental illness can gain a better understanding of what it is like to experience such by reading about characters experiencing just that. Thus, they are likely to have more empathy for their friend or family member when they are experiencing the symptoms of their mental illness.
The following are a selection of books in which the main character has been diagnosed with a mental illness or lives with a person that has been diagnosed with a mental illness. Each entry contains the title, author, mental illnesses depicted in the book, and a meaningful quote. The description of the book is based on School Library Journal and  Kirkus reviews.  This curated list is provided to hopefully help offer additional support to readers; however, as a warning, they may also trigger negative feelings.
Speak
By Laurie Halse Anderson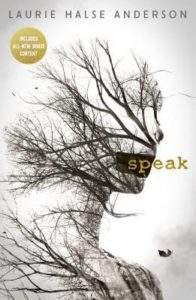 Post Traumatic Stress Disorder/Anxiety
"Do they choose to be so dense? Were they born that way? I have no friends. I have nothing. I say nothing. I am nothing. "
A frightening and sobering look at the cruelty and viciousness that pervade much of contemporary high school life, as real as today's headlines. At the end of the summer before she enters high school, Melinda attends a party at which two bad things happen to her. She gets drunk, and she is raped. Shocked and scared, she calls the police, who break up the party and send everyone home. She tells no one of her rape, and the other students, even her best friends, turn against her for ruining their good time. By the time school starts, she is completely alone, and utterly desolate. She withdraws more and more into herself, rarely talking, cutting classes, ignoring assignments, and becoming more estranged daily from the world around her. Few people penetrate her shell; one of them is Mr. Freeman, her art teacher, who works with her to help her express what she has so deeply repressed. When the unthinkable happens—the same upperclassman who raped her at the party attacks her again something within the new Melinda says no, and in repelling her attacker, she becomes whole again. The plot is gripping and the characters are powerfully drawn, but it is its raw and unvarnished look at the dynamics of the high school experience that makes this a novel that will be hard for readers to forget. – Kirkus
Winter Girls
by Laurie Halse Anderson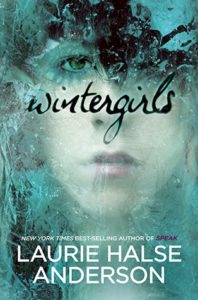 Eating Disorder/Anorexia
Self Harm/Cutting
"Who wants to recover? It took me years to get that tiny. I wasn't sick; I was strong." 
Neither therapy nor threats nor her ex–best friend's death can turn Lia away from her habits of cutting and self-starvation. In broken, symbolic and gut-wrenching prose, Lia narrates her hopeless story of the destructive behaviors that control her every action and thought. She lives for both the thrill and the crash of not eating, and any progress she may have made toward normal eating is erased when her former best friend Cassie dies alone in a hotel room. The trauma of Cassie's death coupled with Lia's strained relationship with her parents and stepmother makes her tighten her focus on not eating as she slides into a world of starvation-induced hallucinations. Uncontrollable self-accusations ("Stupid/ugly/stupid/bitch/stupid/fat") and compulsive calorie counts punctuate her claustrophobic account, which she edits chillingly to control her world. Anderson perfectly captures the isolation and motivations of the anorexic without ever suggesting that depression and eating disorders are simply things to "get over." – Kirkus
Darius the Great is Not Okay
by Adib Khorram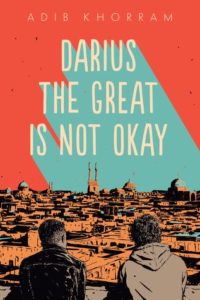 Depression/Anxiety
"Suicide isn't the only way you can lose someone to depression." 
Darius Kellner suffers from depression, bullying by high school jocks, and a father who seems to always be disappointed in him. When Darius' grandfather becomes terminally ill, Darius, along with his parents and younger sister, travels to Iran for the first time in his life. Iranian on his mother's side and white American on his father's side, Darius never quite fits in. He's mocked for his name and nerdy interests at Chapel Hill High School in Portland, Oregon, and doesn't speak enough Farsi to communicate with his Iranian relatives either. When he arrives in Iran, learning to play the Persian card game Rook, socializing, and celebrating Nowruz with a family he had never properly met before is all overwhelming and leaves Darius wondering if he'll ever truly belong anywhere. But all that changes when Darius meets Sohrab, a Bahá'í boy, in Yazd. Sohrab teaches Darius what friendship is really about: loyalty, honesty, and someone who has your back in a football (soccer) match. For the first time in a long time, Darius learns to love himself no matter what external forces attempt to squash his confidence. – Kirkus
Hey Kiddo
By Jarret Krosoczka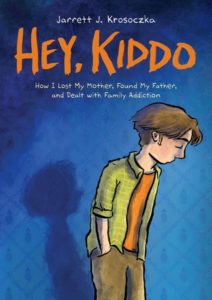 Parent with Substance Abuse
"I am who I am in spite of my mother, but I also am who I am because of her."
Though he doesn't realize it until later, Krosoczka's (The Principal Strikes Back, 2018, etc.) mother suffers from addiction, which brings turmoil into their family's life. Basic needs go unmet, promises are routinely broken, and the stability and safety most take for granted are never guaranteed. Krosoczka is raised by his grandparents when his mom can no longer care for him. The contradictions prevalent in his childhood will resonate with readers who have experienced addiction and educate those who have not. Yes, there is chaos, but there is also warmth, seen, for example, when Krosoczka's mom fakes his birthday for an impromptu party at a fast-food chain, or in the way his grandfather never misses an opportunity to tell him he is loved. Krosoczka learns self-reliance as a survival strategy. He also learns to express himself through art. The palette, awash in gray and earth tones, invokes the feeling of hazy memories. Interspersed are tender and at times heartbreaking images of real drawings and letters from the author and several family members. Krosoczka as an author generously and lovingly shows his flawed family members striving to do the best they can even as Krosoczka the character clearly aches for more. – Kirkus
Cut
By Patricia McCormick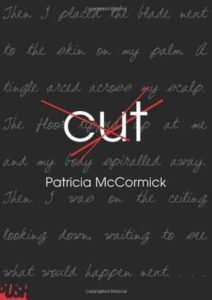 Self-Harm/Cutting
"Sometimes when we're in situations where we feel we're not in control, we do things, especially things that take a lot of energy, as a way of making ourselves feel we have some power." 
Sea Pines, a.k.a. Sick Minds, treats teenaged girls with food- and substance-abuse issues, and Callie, whose issue is self-mutilation. She will not talk about her dysfunctional family, her guilt toward her brother Sam's severe asthma, or why she cuts herself. She will not talk—period. Cut is Callie's interior monologue that alternates between her interactions with her therapist and her interactions with the other residents, the staff, and her family. Her thought process reveals a girl who seems to have given up on life until one cut scares the life back into her. The ability to talk then becomes a metaphor for Callie's ability to understand herself and to begin the healing process. Readers are also treated to the downfalls and triumphs of Callie's peers, including a new resident who shares Callie's affliction. First-timer McCormick tackles a side of mental illness that is rarely seen in young-adult literature in a believable and sensitive manner. Unlike other authors of this genre, she avoids stereotypes and blends gentle humor with this serious topic. McCormick ultimately portrays Callie as a normal teenager who yearns for a stable family structure and friends, and who also has a psychological problem. A thoughtful look at teenage mental illness and recovery. – Kirkus
Anger Is A Gift
by Mark Oshiro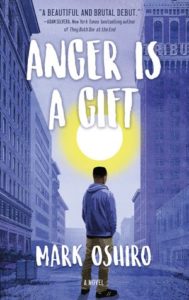 Anxiety
"Moss let a beat go by, and he worried it was too obvious. The spike plunged into  him, that familiar anxiety he worked so hard to keep at bay."
Black teenager Moss Jeffries is still grieving from the loss six years earlier of his father by the trigger finger of a police officer. Moss struggles with self-doubt and anxiety-induced panic attacks, finding comfort in his emerging relationship with Javier, a Latinx boy who's just as tender as he is bold. As the school year begins, the school resource officer assaults Moss' friend Shawna, claiming to suspect drugs—but the young people know that it's really about her decision to fully embrace her black trans identity. When the administration installs metal detectors, resulting in a tragic injury for their friend in a wheelchair, Moss and his circle organize to dismantle the system of violence at their school, beginning with a wildcat student walkout. They demonstrate that there will continue to be resistance wherein aggrieved communities gather in solidarity to build meaningful lives of collective joy, heartful struggle, and deep love. Moss' mother, Wanda, offers, "Anger is a gift. Remember that….You gotta grasp on to it, hold it tight and use it as ammunition. You use that anger to get things done instead of just stewing in it." – Kirkus
The Astonishing Color of After
by Emily X. R. Pan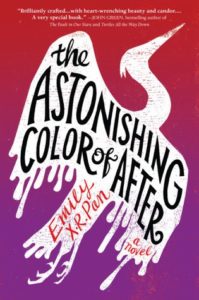 Parent with Mental Illness/Suicide
"What makes a person—one who is so deeply loved—decide to do such a thing?"
"My mother is a bird," declares Leigh, a mixed-raced (hun-xie) Taiwanese American teen. She has seen her mother reincarnated as a large red bird and knows that Mom is trying to guide Leigh in understanding the reasons for her tragic suicide. (Leigh also must contend with the crushing guilt of kissing her best friend, Axel, on the day Mom died.) Leigh travels to Taipei to stay with her maternal grandparents, with whom she can barely communicate. There she embarks on a fervent and grief-stricken odyssey riddled with insomnia and confusion, piecing together her mother's past by lighting magical incense sticks that allow her to witness fragments of others' memories. Pan portrays Leigh as a talented visual artist, telling her story with a vividness punctuated by a host of highly specific hues: a "cerise punch" to the gut, "viridian spiraling" thoughts, a heart "bursting with manganese blue and new gamboges yellow and quinacridone rose." Some readers might be put off by the abundant imagery, but it-along with the threads of Taiwanese mysticism and her mingling of ghosts (gui) with the living-creates a hypnotic narrative. – SLJ
I am Not Your Perfect Mexican Daughter 
by Erika Sánchez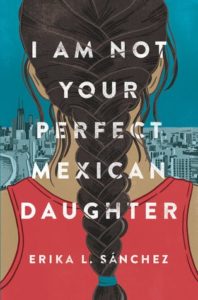 Depression/Anxiety/Suicide Attempt
"Happiness is a dandelion wisp floating through the air that I can't catch. No matter how hard I try, no matter how fast I run, I just can't reach it. Even when I think I grasp it, I open my hand and it's empty."
Fifteen-year-old outcast Julia Reyes longs to attend college in New York, in order to get away from the suffocating watch of her undocumented Mexican parents in Chicago. The unusual death of Julia's older sister Olga—considered the perfect child by her family—only bolsters this desire, as her parents focus their attention even more strongly on their now only child. When Julia stumbles across unexpected items in Olga's bedroom after the funeral, she sets off on a course to discover her sister's secrets while trying to find some escape from her strict parents. Sánchez makes Julia's unflinching candidness very clear from the start, with the opening sentence providing her stark description of Olga's corpse. This attitude intermittently brings levity to heavy moments, but also heartbreak when the weight of it all comes crashing down. That honesty and heartbreak is skillfully woven throughout, from the authentic portrayal of sacrifices made and challenges faced by immigrants to the clash of traditional versus contemporary practices, and the struggle of first-generation Americans to balance their two cultures. The importance of language, a lens through which Latinxs are often viewed and sharply judged, is brilliantly highlighted through an ample but measured use of Spanish that is often defined in context without feeling forced or awkward. The author interweaves threads related to depression/anxiety, body image, sexuality, rape, suicide, abuse, and gang violence in both the U.S. and Mexico with nuance, while remaining true to the realities of those issues. – SLJ
Challenger Deep 
by Neal Shusterman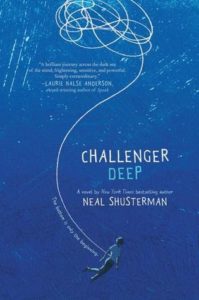 Schizophrenia
"The only thing you have for measuring what's real is your mind . . . so what happens when your mind becomes a pathological liar?" 
Fantasy becomes reality in an exploration of mental illness based partly on the experiences of the author's son, who is also the book's illustrator. For 14-year-old Caden Bosch, his gradual descent into schizophrenia is a quest to reach the bottom of Challenger Deep, the deepest place on Earth. In an internal reality that's superimposed over Caden's real life—where his behavior slips from anxiety to hearing voices and compulsively obeying signage—an Ahab-like captain promises riches in exchange for allegiance, while his parrot urges mutiny for a chance at life ashore. Shusterman unmoors readers with his constant use of present tense and lack of transitions, but Caden's nautical hallucination-turned-subplot becomes clearer once his parents commit him to Seaview Hospital's psychiatric unit with its idiosyncratic crew of patients and staff. However, Caden's disorientation and others' unease also make the story chillingly real. Except in the heights of Caden's delusions, nothing is romanticized—just off-kilter enough to show how easily unreality acquires its own logic and wit. The illustrator, who has struggled with mental illness himself, charts the journey with abstract line drawings that convey Caden's illness as well as his insight. When the depths are revealed with a dream-logic twist and Caden chooses an allegiance, the sea becomes a fine metaphor for a mind: amorphous and tumultuous but ultimately navigable. An adventure in perspective as well as plot, this unusual foray into schizophrenia should leave readers with a deeper understanding of the condition. – Kirkus
History is All You Left Me
By Adam Silvera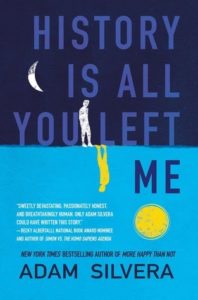 Obsessive Compulsive Disorder
"I feel like a rock being skipped through the ocean—pain, relief, pain again, relief again, eventually destined to sink."
Silvera packs a powerful emotional punch in this multilayered story told partly in flashbacks by Griffin, who's mourning the sudden death of his best friend and first love, Theo. The two white teens and their black friend Wade were a "three-dude squad" for years, until Griff and Theo became romantically involved. Their first sexual encounter was a "good weird" experience—"the best kind of weird"—for them both. Griff's trauma and heartbreak are compounded by his knowledge that Theo had developed a relationship with Jackson, another white boy, while he was away at college. Griff's narrative, addressed to Theo, goes back and forth between the past and present, echoing the alternate universes that they used to ponder. As he unravels the puzzle of his relationships with Theo, Jackson, and Wade, he feels like a coin someone tossed "into the air to settle something once and for all but didn't catch." Griff's quirky tics and compulsions and his unanswered correspondence with Theo are bringing him precariously close to mental illness as he tries to put the pieces of the puzzle together. The conversational yet profound tone of the book highlights the author's ear for the musicality of language and his ability to convey deep emotion through attention to its cadence and flow. – Kirkus
Eliza and Her Monsters
By Francesca Zappia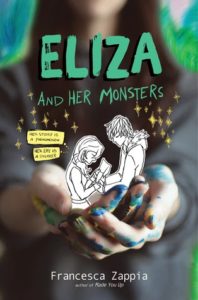 Anxiety and Depression
"I'm so tired. I'm tired of anxiety that twists my stomach so hard I can't move the rest of my body. Tired of constant vigilance. Tired of wanting to do something about myself, but always taking the easy way out." 
Creator of an astonishingly successful webcomic—or a nonentity of a high school senior? Eliza Mirk is an anxiety-plagued weirdo, shuffling silently through the corridors of her Indiana high school without a single friend. She's also beloved LadyConstellation, creator of the comic Monstrous Sea, "a combination of the Final Fantasy video games and the Faust Legend." On the Monstrous Sea forums, she's the queen to millions of passionate fans; in school she's "Creepy Don't-Touch-Her-You'll-Get-Rabies Eliza." Eliza's parents, athletes with no understanding of the internet age, mishandle their beloved—but frighteningly baffling—daughter. Though terrified by human interaction, Eliza finds her voice long enough to defend a new student who's being mocked for writing Monstrous Sea fanfiction. Wallace and Eliza develop an intense, if unusual, friendship: Wallace's selective mutism means the majority of their conversations are carried on in writing. Eliza, meanwhile, wonders if she can reveal her online identity to Wallace, one of the most well-known fans of Monstrous Sea, without destroying his feelings for her. The deepening relationship of these two white teens, interspersed with pages from the comic and Wallace's fanfiction prose retelling of it, exposes the raw, self-absorbed pain of mental illness amid the helplessness many high schoolers experience. A wrenching depiction of depression and anxiety, respectful to fandom, online-only friendships, and the benefits and dangers of internet fame. – Kirkus