post by Tracey T. Flores, The Educator Collaborative Fellow, and Jessi Murdter-Atkinson
Leyendo y Escribiendo en Comunidad / Reading and Writing in Community
Jessi and I met at the University of Texas at Austin where she is a doctoral student in Language and Literacy and I (Tracey) am an Assistant Professor. In our field-based teacher education program, we collaborate with our doctoral students to teach our literacy methods courses at our partner schools located in the Austin community. During the spring, I was fortunate that Jessi was assigned to collaborate with me as my TA for my Community Literacies course.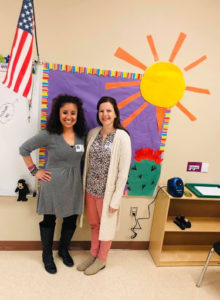 First Day of Community Literacies (L: Tracey, R: Jessi)
Immediately, Jessi and I developed a collegial relationship, where we worked together to co-design and co-teach the course by building off of each other's strengths and expertise. 
In our work with pre-service teachers, we met as a cohort at a local elementary school that was approximately fifteen minutes away from the university by car. The choice to hold our community literacy course in a field-based setting allowed us to work side by side with students and their families. Prior to the pandemic, we began each class with an invitation to write and share, thus building community with one another through the sharing of our stories and histories. Next, we moved into a discussion of the readings and lastly (and most importantly!), we partnered with the school's parent support specialist to read and write alongside parents/caregivers in the community. Our time with these folks followed a predictable yet flexible structure: invitation to read, write, and share. Each workshop, entitled "El Puente", was co-taught by course instructors and parents/caregivers, in both Spanish and English. El Puente quickly became a beloved part of learning together.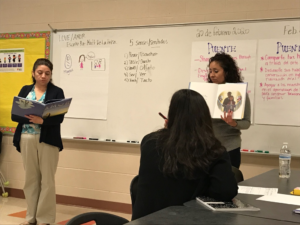 First Day of El Puente
Towards the middle of March, in response to the COVID-19 pandemic, our university and area school districts moved all instruction online. Once learning shifted to a virtual format, we revised the syllabus to focus on working within a community during times of uncertainty or trauma. We centered our thinking around questions such as:
What is my role as a teacher working within a community during times of uncertainty and trauma? 

How do I create a learning environment that centers the needs and concerns of the students that are in my care?

What resources from my own communities and the communities in which I work can I draw upon for support and guidance in my teaching?

How do we understand the ways that power, privilege and opportunity manifest in schools through structures, policies and practices (historically and in this moment) enacted by elected officials, teachers and other educators? 

How do we advocate for social justice? 
Guided by the wisdom of Audre Lorde, Elizabeth Dutro, and bell hooks, we engaged in weekly conversations around these questions. While we were no longer able to meet with our El Puente members, our weekly classes together became a space to process what was happening around us, grieve in solidarity, and begin healing. 
As we sheltered in place, we (Tracey & Jessi) met virtually to plan class sessions and to check in with one another about life and how we were handling the daily changes, challenges and fears. 
These conversations that we held in order to collaborate and to be human were very important for our sanity and our social, emotional and personal health. Our conversations often turned to our daughters, and we shared stories about our time at home with our girls and the ways we were spending time with them. 
Below, we share two stories of our time with our daughters, and the ways we drew upon our own experiential knowledge as educators and intuition as mothers to share time with our children playing and engaging in literacy events that were  rooted in their curiosity and their interests. First, I (Tracey) describe the daily storytelling that my entire familia has been engaging in at the dinner table – la sobremesa. And, finally, Jessi shares the bookmaking that she and her daughters engaged in to tell stories and follow their interests in meaningful ways. 
Storytelling Around the Dinner Table – Tracey
"Tell me a story, Mama, about when you were little."
"What kind of story, Baby?" 
And, so each night as Mama puts her little girl to bed, she tells her daughter stories from her childhood. She describes memories of growing up in the little white house and the mean woman who lived across the street, the yummy sweet rolls her own mama gave her and the puppy she found without a tail. And with each story, we learn about mama's history and we see her daughter become a narrator in the storying and restorying of her mama's life, as mama explains the emotions tied to these special memories. 
Like the young girl in this story, my own daughter, Milagros, loves stories. She enjoys hearing stories about our extended family, but she especially loves to hear stories about her birth, her earliest days on this Earth, and milestones of her young life. We tell her stories about how we dreamed and prayed for her to come into our lives and that even before she arrived everyone couldn't wait to meet her. She asks about when she got stung by a bee at the Shake Shack. She loves to relive the details of her first birthday party at Peter Piper Pizza with all her family and friends. And, she asks us to recount the small moments that happen each day – through story. 
In this current moment, we are sheltering in place with my parents, her Nana and Tata, and my sisters, her Tias. This has expanded her storytelling circle – opening up her world to even more stories. A beautiful gift is the sobremesa, after dinner, when we continue to linger at the table, together, and engage in conversations that always lead to stories. These stories start with us recounting our "day at work" via Zoom, what we will eat at the next meal (LOL) and conversations about the news, which then connect us to stories that my parents tell about their own parents and childhoods.  These stories connect our current political, racial, and educational context to my own parents' experiences as children and young men and women and the impact this had on them – and how they pushed through these challenges, still finding hope and ways to thrive.
These moments, during the sobremesa, and throughout the spaces of our day, as we navigate our current situation together, I have re-discovered the importance of storytelling, not just in Milagros' life, but also in my own life and the lives of my family. These stories have helped us to remember, to connect, to laugh and to heal, while connecting to the wisdom of our ancestors – and sharing these gifts with Milagros. 
Book Making – Jessi 
I want both of my children to see themselves as readers and writers and one way that I can build up and sustain their literate identities is through book making. In their book, Already Ready, Matt Glover and Katie Wood Ray write that children of all ages have a vision for bookmaking. Picture books are the most familiar kind of writing for children. "The authenticity inherent in making a kind of writing they know as readers- a picture book- is hugely significant" (Glover & Ray, 2008). In making picture books, the illustration or drawing work a child does holds as much meaning as any potential words they write. When making books, children are able to compose in a variety of genres of their choosing: narrative, fantasy, how-to, or informational. 
My youngest daughter, Lea, has been experimenting with different ways to make books. To begin, we gathered blank paper, some colorful pens, and our favorite mentor texts. Recently, Lea and I went for a walk in our neighborhood, and as we walked along the trails and through the different streets, Lea began to take pictures of things that were important to her. Each time, she stopped to take a picture with my phone, I prompted her to "say more" about it. I asked her to name what she was taking a picture of and why. After we returned home, I printed the pictures and Lea stapled them together, thus making a book. I asked Lea how a reader, who was not present on the walk with us, might know of the pictures she took, and she suggested that she label them. Below are two pages from Lea's book: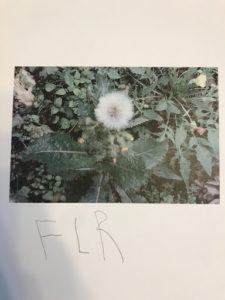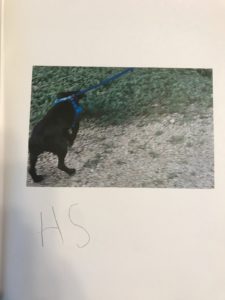 Flower                                                 
Hans (the family dog)
This text became something that Lea frequently read on her own, as it was composed of the ideas and concepts that mattered most to her. As an educator and mama, it can be tempting to write the words for Lea or to correct her invented spelling. Instead, I let the words live on the page as they were. After Lea made her book telling the story of our neighborhood walk, we called her cousins and she shared it with them. When children like Lea make books, and those books are shared with others, the experience of composing lives on and sends an important message to the child: composing creates a record that holds fast throughout time and that they, too, are writers- just like their favorite authors.