by Troy Hicks, The Educator Collaborative Fellow
---
Register to watch Troy Hicks and Tricia Ebarvia's 2018-2019 Study Series Session, "New Possibilities for Students' Digital Writing," live on January 23, 2019 or view the on-demand recording anytime through June 30th.
---
From Wonder to Writing: Invite Students Into Inquiry Through Online Articles
Our best literacy teachers, especially those of you engaging with the TheEdCollab, have known for a long time that we must provide students with mentor texts in order to help them better understand the genres in which they write, the audiences for whom they write, and the purposes that their writing can serve. We have also known—and continue to make clear for our students—the idea that various text types have specific features to help the writer stay organized and to cue the reader in the process of making meaning. As we consider the possibilities for digital reading and writing, we need to make these moves for writers and clues for readers equally as explicit as we do in print.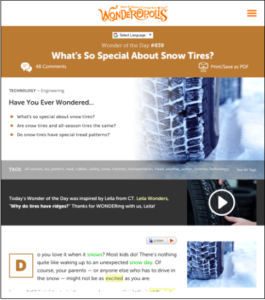 It is with this understanding of mentor texts and digital writing in mind that I enjoy sharing examples of website articles written for children, such as the site Wonderopolis, both as a place for upper elementary to find highly-engaging non-fiction articles and as inspiration for their own digital writing. We can even invite our middle and high school writers to consider Wonderopolis as a genre, with appropriate discussion of audience and purpose.
In addition to the many typical types of nonfiction text features we might find (such as clear headings, bold-faced words, engaging images with captions, and a compelling tone in the writing itself), the affordances of the web make Wonderoplois's articles even more interesting for students with the use of video clips, highlighting, hyperlinks, and interactive quizzes. This timely article on snow tires is just one example of the hundreds of compelling texts that Wonderoplois offers its young readers.
How then can we move our student from their initial "wonderings" into their own digital writing?
Digital Writing Opportunities using Websites as Mentor Texts
There are many ways we could consider using websites articles as mentor texts and in combination with various technologies, but two of the most familiar — and free — tools that I would encourage you to consider are Google Docs or Adobe Spark.
Composing with Google Docs
At one level, simply having students use a word processor like Google Docs will allow them to emulate the textual features of a website article, like Wonderopolis. They can use a table to build the initial layout, and can bring in images using Google Image Search. Then, with the text itself, inviting students to make hyperlinks for words that may lead to further inquiry or to highlight unfamiliar words as a way to signal new vocabulary. Additionally, if you and your students want to go deeply into the topic, they could create (and provide links to) a quiz with Google Forms, Quizlet, or other similar tool. As they polish up their writing, of course they can provide peer review with the commenting feature. They might even use the highlighter to draw attention to particular vocabulary words in the text. Finally, the Google Doc could then be published and shared via Google Classroom (or other LMS) or via social networks.
Composing with Adobe Spark
COPPA and FERPA are U.S. Laws protecting the privacy of student data and online lives. Educators should become aware of these laws and speak with district leaders to learn how best to protect students online safety.
At another level, we can invite our students to emulate online articles, like Wonderopolis, in both content and form, using a free website creation tool, Adobe Spark. Recently made available for free to all K-12 educators and students, Adobe Spark's premium features allow students to make "posts" (social media-style posters and graphics), "videos" (as implied, short films with photos, video clips, narration, and music), and, for purposes of this discussion, "pages" (fully featured web pages that allow for text, images, videos, and hyperlinking). More information and examples can be found on Adobe Spark's EDU page and, please note, that each of these three types of tools are available on the iOS App Store. On Android devices, Spark is available when choosing the "view as desktop site" version of the Spark homepage in the Chrome or Firefox browser. Hence, Spark is widely available, for free, with a COPPA and FERPA compliant single sign-on.
For a Wonderopolis-style article, we would need to use the "pages" feature. There are many ways to become familiar with the tool including Adobe's Education Exchange, the Spark Pages help guide, or this 7-minute screencast from the Flipped Classroom Tutorials YouTube Channel. In whatever way you and your students choose to learn Spark, the goal for creating a Wonderopolis-style page should include some mini-lessons and conferring that help students identify appropriate banner and story images, tips for inserting additional text boxes and varying layouts (for instance, using the "split layout" with both image and text), and using both hyperlinks and buttons to connect readers with additional, outside information and resources. Much like the strategies outlined above for Google Docs, we again want students to be thinking strategically about their non-fiction writing and how they can use the appropriate tools to engage their audience.

Writing Our Way to Wonder
Whether composing with Google Docs, Adobe Spark, or other digital writing tool, a few key questions can help guide students toward a richer and more nuanced writing process. I pose these questions based on the MAPS heuristic that I've shared in my books and presentations, and offer them here as a way to begin the digital writing process with your students.
As writers of non-fiction, what do we notice about the qualities of an online article?

How does an online article writer, like those of Wonderopolis, use key questions, specific vocabulary, and even a bit of humor to achieve an effective article?

Given an audience of other youth who will likely read your article, what are the most salient facts that you can highlight with your writing? What could be left out?

What other non-fiction text features could we employ in our articles?

As digital writers, what what do we notice about the qualities of an online article?

How doesan online article writer, like those of Wonderopolis, use images, video, hyperlinks, and quizzes to enhance the reader's experience?

Given an audience of other youth who will likely read your article, about how many images, videos, and hyperlinks seem appropriate? What will be engaging… and what will be distracting?

What vocabulary terms and multiple-choice questions could you build into an interactive quiz to supplement your article?
Throughout the entire process, the goal of creating an online article, in this example in the style of Wonderopolis, is, of course, wondering. With inquiry at the heart of the process, you can guide your students through an effective series of digital writing workshops, ultimately leading them to create their own articles worth sharing with other young readers.
As a mentor text, online articles can be rich with opportunity for exploring non-fiction text features and the affordances of digital writing tools. So, in closing, my wonder is simply this: how soon until you and your students can begin?