by The Educator Collaborative Fellow Shawna Coppola
What are the professional texts that seem to "live" at your desk–that rarely make it back to their home on your shelves or tucked away in your digital folders? So often, these texts–if they are of the analog variety–are our most loved and appreciated ones, made soft from so many hands handling their weight, their edges worn and curled from incessant travel from desk to bag to desk again. 
For me, Street Data: A Next-Generation Model for Equity, Pedagogy, and School Transformation by Shane Safir and Jamila Dugan is one such text. While it is focused, overall, on initiating transformation at the school and/or district level, I have found it to be just as useful when working toward transformation at the classroom level.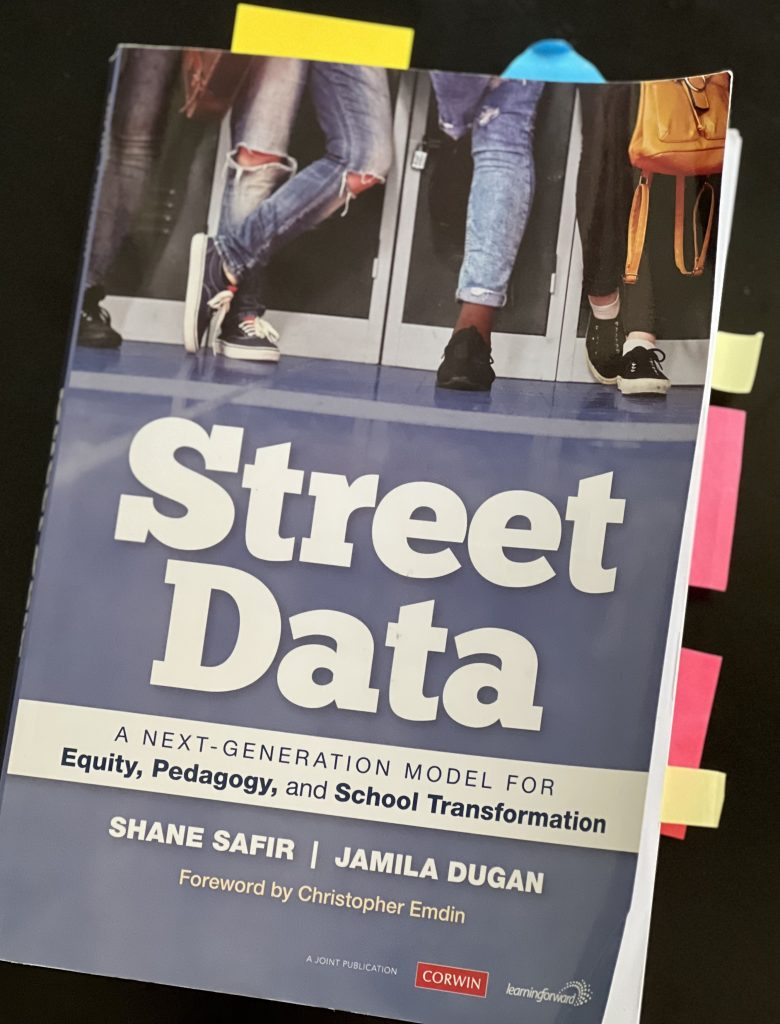 In Chapter 1, Safir, a self-described "white woman of Irish and Jewish descent," writes how complicit she was as a young person in both "buying into the white supremacist structure of schooling" and "subscribing to the myth of meritocracy." She wonders (much like author Alfie Kohn wonders in his popular 2003 essay "What Does It Mean to Be Well-Educated?") what a "radical reimagining" of an educational system would look like that would, essentially, upend how we perceive of both "data" and "success."  The "street data" paradigm that she and Dugan conceptualize centers around a framework that incorporates the use of three distinct "levels" of data that Safir first created in her 2017 book The Listening Leader: Creating the Conditions for Equitable School Transformation. These three levels of data are:
SATELLITE DATA (conceptually furthest from the learner), such as that we gain from high-stakes standardized assessments, graduation rates, or school health records. Satellite data "illuminate [large-grain] patterns" around achievement, efficacy, or equity and can point educators and other stakeholders (e.g., families) "in a general direction." However, satellite data is most likely to privilege dominant ways of knowing and/or of "doing school" and thus is highly likely to perpetuate White supremacy, linguistic discrimination, and anglocentrism.
MAP DATA (closer, but still somewhat removed from the learner), which can "point us in a slightly more focused direction" and which we often gather from sources like running records or curriculum-based assessments (e.g., locally-designed performance assessments or end-of-unit tests). Considering that the majority of teachers working in the U.S. identify as White, map data is also highly vulnerable to the perpetuation of dominant ideas around what kinds of knowledges and skills (and how we demonstrate those knowledges and skills) "count."
STREET DATA (closest to the learner), which offers the most potential for contextualizing student learning and which, in theory,** is most likely to be both asset- or strength-based and culturally sustaining. We can most effectively gather street data from close, sustained observation; from interviewing or conferencing with students; and/or from inviting students to share their own learning experiences, habits, and processes. "Street data," Safir and Dugan write, "disrupt [the] dynamics" of both white supremacy and white saviorism by "bringing student voice to the forefront" of educational data collection.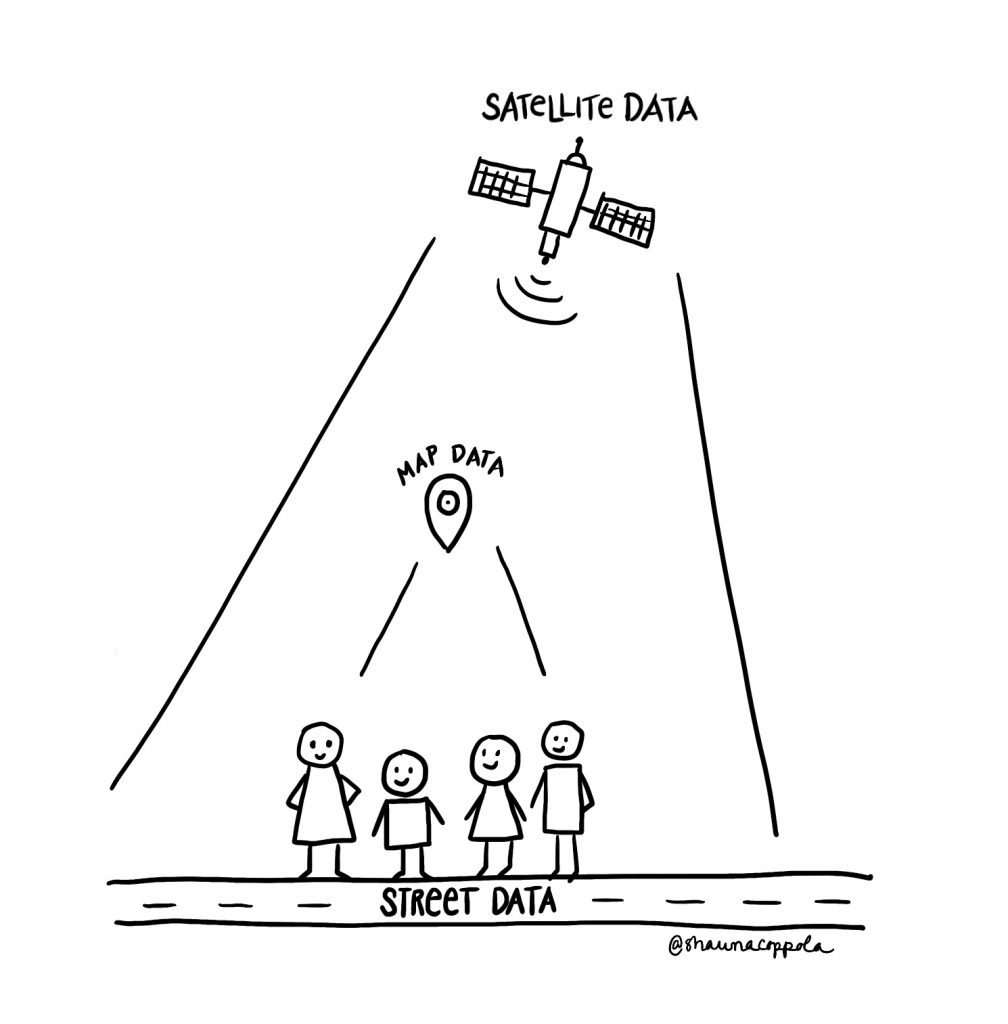 In my work as a consultant, I have found this conceptualization of "data" to be transformative for the educators with whom I am privileged to work–particularly for those who entered the profession long after Gretchen Owocki and Yetta Goodman brought the concept of "kidwatching" to the educational masses (or who never had the opportunity to learn about the Reggio-Emilia approach to education). Rather than lean too heavily on the kinds of data that are less contextualized and less reflective of students as whole humans, we can use street data collection as part of a qualitative research approach that helps us tell a more humanizing, more holistic "story" of our learners–that, as Safir and Dugan write, centers students as "human beings whose experiences are worthy of careful study and deep listening."
However, as with any educational paradigm, framework, or approach that pushes back against dominant practices that work to maintain the status quo, many of the educators with whom I work have envisioned the possibilities that some stakeholders ( e.g., colleagues, administration and/or families) may perceive the information gleaned from street data to be less valuable than that gleaned from the other, often more highly-regarded, levels of data. They have requested some language that they might use to help them illuminate for others why such data is so important. I share this set of slides here in the hope that the language offered within may be useful to others committed to incorporating street data collection into their educational practice.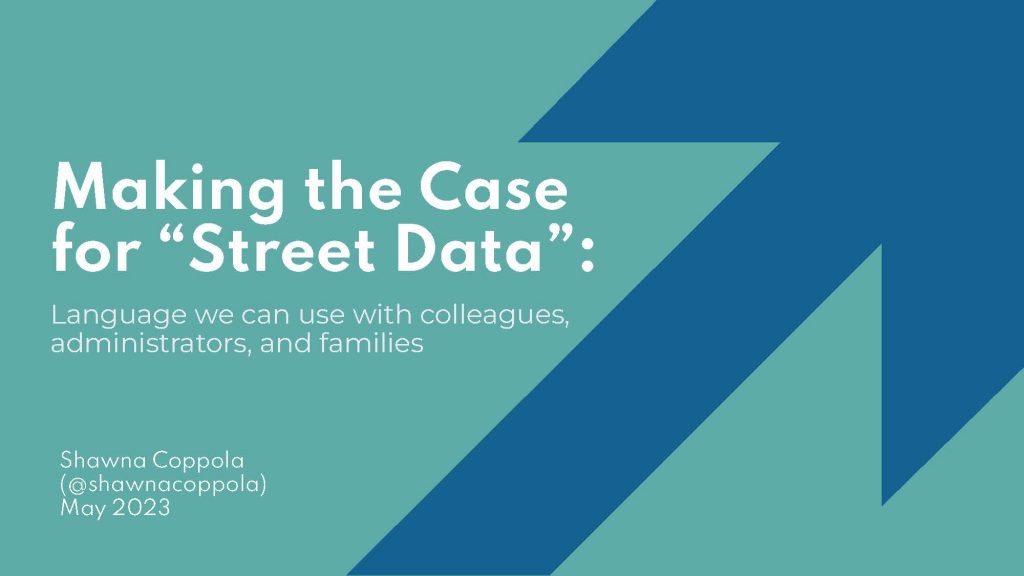 This being a dynamic document, though–and me being a fallible human with a lifetime of learning to do–I am well aware that revisions may need to be made to some of this language in order to provide the best argument for systematically collecting street data as part of a more equitable practice of assessment. To that end, I invite anyone reading this to offer your own suggestions in the comments below. Our advocacy around a more holistic and humanizing approach to data collection that centers our students, and all of their complexity, will be infinitely stronger the more collective our efforts are.
**NOTE: I say "in theory" because the work of ensuring that our data collection efforts are more culturally sustaining is dependent on our commitment to interrogating our own biases and assumptions when it comes to teaching and learning.
If you enjoyed this post, be sure to check out Shawna's closing keynote from our Spring 2023 Gathering as well as her upcoming book on anti-oppressive literacy education from Routledge, due out this fall.