post by Heather Rocco, 2019-2020 The Educator Collaborative Member
Professional Development By The Books
On a frigid January morning I had butterflies in my stomach as I drove to work. Now, I love my job as a K-12 English language arts supervisor in New Jersey, but the commute does not typically prompt a fluttering excitement in my belly.  That morning, though, was different. I had been invited to join my district's library media specialists and their supervisor, Danielle Dagounis, on a trip to an independent bookstore. I know, right? A bookstore! On a school day! Bookstores are places I visit on the occasional Sunday when my errands allow me to make a quick stop. Independent bookstores are the places I most often seek out when I am visiting a new town. But I never spend time during a work day in a bookstore.  I have to admit that having permission to do just that was reason enough for me to accept Danielle's invitation. 
The library media specialists, though, were going with a purpose. As is the case in many school districts, our district has a social and emotional learning initiative. Administrators and teachers have been integrating SEL conversations and lessons into all subjects in order to build skills such as empathy, resilience, and problem-solving.  Nadege Nicoll, owner of The Book House in Millburn, NJ, contacted our district to share picture book collections she is curating to support teachers in this SEL work.  Though she could have sent along lists, Danielle thought is would be best if my colleagues visited the store, learned about the books, and previewed the texts themselves. She was absolutely right.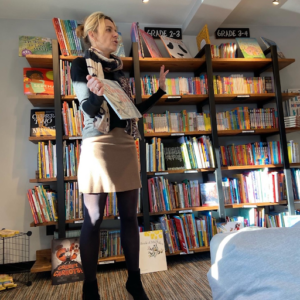 My "Yippee, I'm going to a bookstore" excitement quickly morphed into a deep fascination with the picture books the bookseller shared. Nadege pulled book after beautiful book off her shelves, sharing a summary of each story and the social lessons it teaches. She leafed through the pages, highlighting what was unique about the illustrations, the fonts, or the structure. She loves highlighting small presses and local authors, so she made special note of these books, describing the mission behind the publishing houses and her impression of how well the local authors engage their school-age audiences.  Her knowledge and her passion were evident throughout our two and a half hour visit.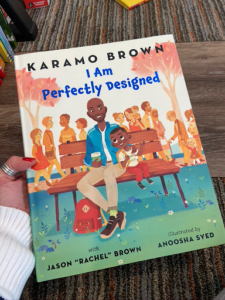 Another, somewhat serendipitous, professional learning opportunity occurred that morning as well. The district's library media specialists all work in different buildings. While they perform similar duties, they rarely have the chance to talk about the books they read or the approaches they take as they support readers. Following the bookseller's presentation, the librarians had time to converse with one another about books. They reviewed the recommended titles together, sharing how they imagine utilizing the texts. They offered one another book title suggestions, explaining how they include particular books into their lessons. I, too, have limited interactions with the district librarians, so it was wonderful for me to hear about their work and to share with them the professional learning focus of literacy teachers.  As the morning drew to a close, one librarian remarked, "We never get to talk about books like this. It was such a great day." This comment prompted the group to decide their next meeting would be dedicated to book talking. Each person would bring their go-to books and share how they use them with students. They left the bookstore that morning just as excited for their next gathering as I was when I arrived at the bookstore.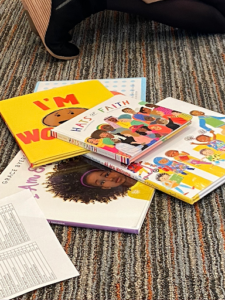 Going to a bookstore isn't revolutionary, I know. Talking about books isn't revolutionary either. However, carving out several hours of a school day to do both things with a wonderful group of educators felt like a truly powerful professional development experience. The opportunity to hear from an informed bookseller who is particularly committed to the SEL work, combined with the time to discuss the books with colleagues, proved to be a worthwhile morning of learning.