By Brian Sweeney and Diana DeCosta

Last year, I was fortunate to run a Virtual Think Tank on informational writing, journalism, and technology for the Educator Collaborative.  At the end of the year, I nominated one member of our group, Diana DeCosta, for the "Collaboration Award" that Booksource sponsored for the Collaborative's first year of Virtual Think Tanks. I know the final decision between all of the Virtual Think Tank cohort nominees was a tough one, and I was so happy when Diana won the $1,500 in books provided by Booksource. It was an amazing prize for an amazing person. 
One of the main reasons Diana deserved this so much was because she took what is often a negative in the world of teaching and turned it into a positive.  Let me explain.
One of the the unfortunate things I've seen as a teacher is a lack of respect between staff members from different levels.  I witnessed a startling example of this a few years ago when I was grading the New York State exams, something that involved me being sent to a facility to grade with teachers from multiple schools and grade levels.  One of the teachers at my table was annoyed at the testing supervisor (a former middle school teacher), and when she walked out of earshot, he said to our table "you know what they say, 'middle school teacher, middle school mind.'"  I'm not sure  which "they" he was referring to but it stung.
Sometimes we educators can too easily and unfairly look down on different types of teachers, because of the grades or subjects they teach, or because we disagree with their perspective on a subject, or a myriad of other reasons.
This brings me to Diana. You see, my Virtual Think Tank last year was geared for grades 6-12. Diana is an elementary school teacher, but the topic interested her.  
Though she was hesitant to join (as she will describe below), the conversation that she enabled us to create was far richer because of her inclusion.  The ability to trace skills from K-12, rather than adhering to the arbitrary dividing line between primary and secondary, was incredible. Each member of our Think Tank had to constantly consider multiple perspectives because of the diversity of grade levels present at our sessions. Diana's willingness to be the "odd person out," and the passion she showed when joining in on the conversation, made her collaboration essential to the success of our virtual sessions all year long.
I wish that the rude teacher I'd sat with years ago could have been involved with our group.  Diana would have showed him that no matter what grade level you teach, you can have as sophisticated and thought-provoking a conversation on pedagogy, technology, and writing as any other educator out there.
– Brian
Here are some of Diana's thoughts on her experience with last year's Think Tanks:
Proof that "Collaboration Creates Opportunity"
A year ago, I was preparing to return to my 4th grade classroom and commence my 14th year of teaching.   My school year was going to look different this year.  I had applied for and received an in-district grant proposal for a 1:1 Chromebook classroom.  I was  determined to break down classroom walls and revolutionize the learning that occurred in my classroom.  I was particularly interested in dispelling the stereotypes that "little kids" couldn't use technology effectively in the classroom.
I was doing the typical things teachers do during the summer in preparation for this monumental year: planning out my units of study, spending endless hours on Pinterest pinning effective classroom ideas, reading and following teacher blogs, and reading my book pick for PD: Falling in Love with Close Reading by Kate Roberts and Chris Lehman.  I became a fan of Kate Roberts after attending her session at the Spring Reunion 2014 at Teacher's College.  
My colleague and I discovered and unlocked the power of Twitter to expand our PLN.  We used it to connect with various educators and leaders in education. This eventually led us to the discovery of The Educator Collaborative and the 2014-2015 Virtual Think Tank Offerings.  The concept was genius and inspiring, and I wanted to be a part of it!
It was actually a happy coincidence that I ended up in Brian Sweeney's "Student Informational Writing for the Internet Age: Journalism, Blogs, Tumblr and Twitter, 6-12" session.  Due to my late registration and scheduling conflicts, I was enrolled into his session.  Being a 4th grade teacher, I was hesitant to join this group because I doubted my ability to contribute to the conversation given the relevant grade levels.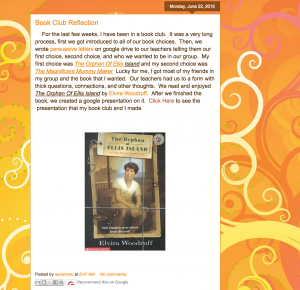 I am thankful that I was encouraged to participate by Chris Lehman, despite my grade level.  He took the time to let me know that it was important to feel like I was in a good-fit in this cohort.  He trusted that my experience with GAFE and my energy in general would afford me the opportunity to find ways to bring the work to my grade range.  Admittedly, I was skeptical, but he couldn't have been more on the mark.
Being part of a cohort of educators from across the country provided me with a roadmap to unleash the power of technology in my elementary classroom.  It was reassuring to know that the concerns and questions I had were shared with other educators at different levels of education.
Brian Sweeney's example and assignments forced me to push the envelope and integrate technology in ways I hadn't thought possible back when I was prepping for the new year.  Hearing what was being done at the secondary level influenced me to seek out ways to scale it down and make it relevant for the students in my class.  
Notably, my students used Blogger to create digital portfolios to initially archive their writing. Eventually, students shared their reflections about learning.  I also started a class twitter account to share our class story.
Students played an integral role in learning the art of "compressed language" to share highlights of their learning.  Participating on these digital platforms engaged students in ways I hadn't imagined.   It was clear they cared about being part of a global community and were vested in the quality of what they shared with their audience.  Parents participated in their child's learning digitally and were thrilled to watch their children become responsible digital citizens.  
Currently, I am preparing for the upcoming school year.  Again, this school year is going to look different–very different.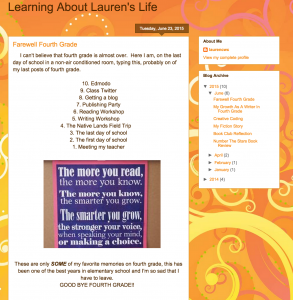 I will be out of the classroom and fulfilling my dream of becoming a technology integration specialist/staff developer for the West Orange Public School District.  I found myself referencing my experience with the Coaching Think Tank during the interview process for this new position. The Educator Collaborative's impact on my practice was profound.
I was so thankful that I had the opportunity to collaborate with educators at the secondary level because it helped me to see the bigger picture of tech integration and gave me a sense of how to start this conversation at the elementary level.  I would never have put my hat in the ring for a district level Technology Integration Specialist position prior to this year – I didn't have the confidence.  The amount of growth I experienced this past year in my practice of teaching was tremendous.  The Educator Collaborative's motto has certainly resonated in my life:  Collaboration creates opportunity.