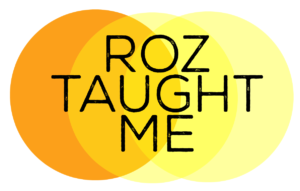 Over the next several weeks, join us in a celebration of the legacy of Dr. Rozlyn Linder. Our colleague, friend, and important voice in literacy education. While we continue to mourn losing her this past December, her teaching, vision, and work lives on and inspires.
For each post, we will reference her books, workshops, and conversations in the specific ways we are using them today.
We know Roz's work influenced so many of you, too, and so we invite you to write your own #RozTaughtMe. We suggest your post structure may go like this:
Capture Roz's work (a strategy, method, chart, writing lesson, etc)
Share how you have used it or how it has inspired your teaching
Invite others to try it out as well
Please link your posts in the comments section of any #RozTaughtMe post and/or share on Twitter and Facebook. We will round up and reblog some of your posts as guests posts here on our Community blog.
---
#RozTaughtMe post by JoEllen McCarthy, member of The Educator Collaborative
Book Lessons and Life Lessons
My grandmother used to say, "a smile costs nothing."  Even that simple act can have ripple effects. When I think of ripple effects and smiles, I think of Roz Linder.
I am reminded of how many of us were struggling with the roll out of the Common Core Standards. While here in NY, for example, we were inundated with materials to help "teach the standards"—including mind-numbing lessons from Engage NY (which were anything but engaging), along with purchasing decisions, PD options and more that abandoned best practice approaches for the sake of one interpretation of "teaching the standards"—Roz took this work head on and kept it focused on real learning.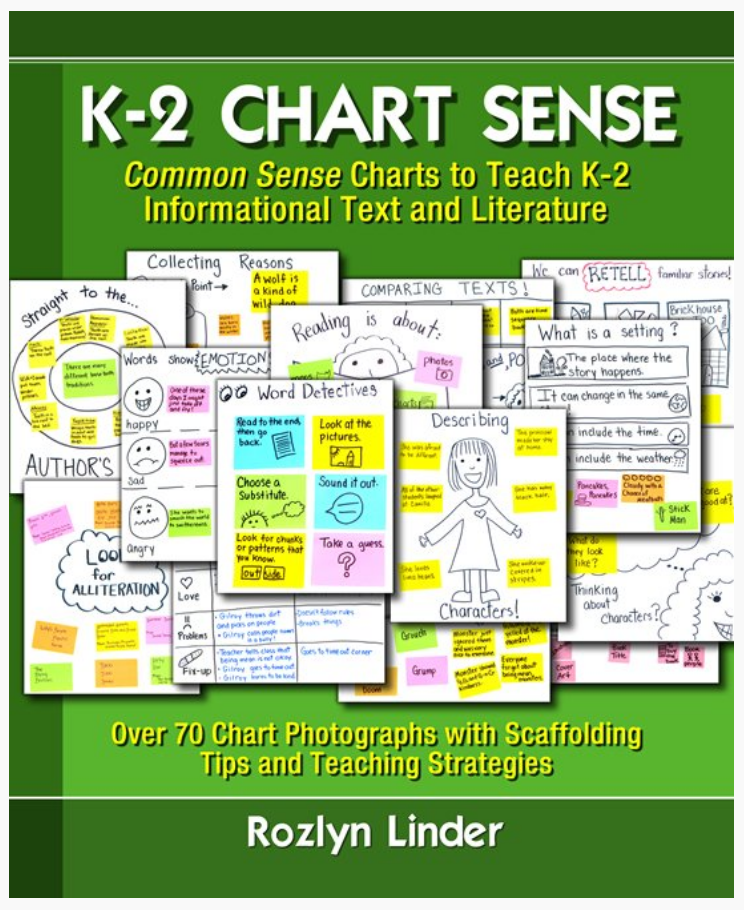 Roz knew that real reading, real writing, and real voices guide conversations and learning.  In her series Chart Sense, she offers a "Common Sense" approach to the standards with user-friendly, grade and standard specific instructional charts. In exploring literacy lessons in conjunction with these standards, Roz provides a resource that makes the thinking work needed, behind the standards, visible.  In her books, like all of her work, Roz embodies the "show don't tell mantra" so many of our reading and writing workshops are based on. She has the ability to take teaching ideas and make them stick, with fun, easy to use ideas for teachers and students alike.
Chart Sense emphasizes opportunities for shared learning experiences and supports step-by-step examples to create charts that not only unpacked the standard but also helped make those translate into transferable skills.  Her work provides examples as a guide to deeper reading, writing and thinking, and gives us all an opportunity to deepen our understanding of the standards. Roz's Chart Sense books are an invitation to notice lesson ideas and possibilities.  She gives countless explicit models for all to use and guide instructional decisions based on the needs of all learners. Roz's ultimate goal: students over standards.
Roz Taught Me
What I love about Roz's work is that she knew how to make the most of the standards through explicit instruction, modeling and mentor texts. In Chart Sense, Roz explains the standards with easy to use lesson ideas to apply with any text. As a teacher, always seeking to fill my bookshelves with the best of children's literature, I often look to those shelves to find my "co-teachers."  When we use stories to invite questions about ourselves, others and our world, there is no script necessary. Instead, the learning comes through the inquiry and discoveries led by our curriculum of children. Roz Linder has gifted us with a resource to go back to again and again for this kind of deep thinking and inquiry work. Our students, our classrooms, our communities benefit from the ripples and lessons Roz has left behind.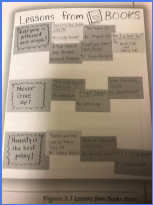 Two favorite Roz lessons that illustrate this example come from K-2 Chart Sense but the lessons apply to learners of all ages.  In "Lessons from Books" (p. 40) and "Morals and Lessons from Books" (p. 47) Roz explains how significant the standard is in asking readers to think about main ideas, topics and messages, because there is no one correct answer: "It is not that students should see the world as you do; it is about them thinking critically and justifying the messages that they take away from different stories."
How I've Used Roz's Work
I have expanded on Roz's lessons to look across texts for literacy and life lessons, because the reader writes the story. I created this noticings chart to help highlight lessons we find in books as readers, as writers and in life.
Below is an example of the chart I use to help with this inquiry work so that we may blur the lines between reading, writing and life lessons. The best part of this investigation comes through conversations from students inspired by powerful picture books.

The heartprint Roz leaves on our profession, inspires us to explore literature, discover authors, and the moves that we can emulate, but more importantly inspires us to pursue our passion for teaching, learning and collaborating.
Try It!
I am especially grateful for her sharing her insatiable appetite for professional growth. Roz, like so many us, believed there is no silver bullet for teaching.  Instead, make time for the inquiry, discovery, collaboration and reflection that leads to deep understanding.
The opportunities to grow and learn from books are endless.  Roz work continues to inspire us all, but I believe some of the most important life lessons are those that Roz lived day to day: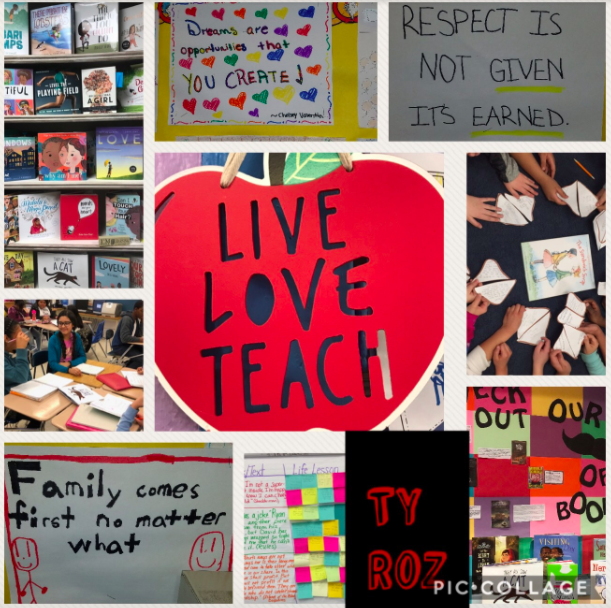 Focus on students not standards

Learn with and from mentors

Play with possibilities

Try out ideas for a test-drive

Create your own "wall of crazy" ideas

Read, read, read

Write, write, write

Enjoy every moment
Teach
Inspire
Love
Laugh
Learn
Smile
Make the most of that time with your friends, families and classroom community. Our students, our classrooms, our communities benefit from the ripples and lessons Roz has left behind. Thank you, Roz.
Please share your own ideas and reflections in the comments below. Or share your own #RozTaughtMe post and drop the link there, too.