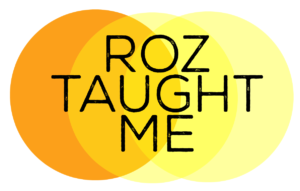 Over the next several weeks, join us in a celebration of the legacy of Dr. Rozlyn Linder. Our colleague, friend, and important voice in literacy education. While we continue to mourn losing her this past December, her teaching, vision, and work lives on and inspires.
For each post, we will reference her books, workshops, and conversations in the specific ways we are using them today.
We know Roz's work influenced so many of you, too, and so we invite you to write your own #RozTaughtMe. We suggest your post structure may go like this:
Capture Roz's work (a strategy, method, chart, writing lesson, etc)
Share how you have used it or how it has inspired your teaching
Invite others to try it out as well
Please link your posts in the comments section of any #RozTaughtMe post and/or share on Twitter and Facebook. We will round up and reblog some of your posts as guests posts here on our Community blog.
---
#RozTaughtMe post by Maggie Beattie Roberts, member of The Educator Collaborative
Roz on Repeat: Using Repeating Words to Strengthen Writing
I was recently working with a group of teachers in Tennessee. We were busy making our own teaching tools to use when leading small groups of kids. Our work tables were covered with markers, paper, and student work. As I was walking around, working with different groups of teachers, I stopped clear in my tracks.
A teacher had a copy of Roz Linder's Chart Sense out on her desk. It was flagged with tons of sticky notes, the spine well-worn.
Roz.
I said her name aloud. The teacher smiled. "She is one of my absolute favorites," she said. I could tell by her eyes that she hadn't heard the news yet.
Through the heartache, I find some comfort in this: that although Roz is gone, her work lives on in the hands of people she loved oh so much—teachers.
How I've Used Roz's Work
As I return to Roz's work repeatedly, it feels right to lift up one of my favorite writing craft lessons she shares from her latest publication, The Big Book of Details. This book is filled to the brim with writing moves & strategies that help kids write more in narrative, informational and persuasive writing. The strategy highlighted today, "Repeaters," helps student tap into a writing move that helps them add more vivid description to their writing (40-43).
What does this move look like in writing?
In her book, Roz shares excerpts from professional writers to detail each strategy. For this one she includes:
"Welcome to the green house.
Welcome to the hot house.
Welcome to the land of the warm, wet days.
-Jane Yolen, from Welcome to the Green House
"I said I was being scrunched. I said I was being smushed. I said, if I don't get the seat by the window I am going to be carsick.
-Judith Viorst, from Alexander and the Terrible, Horrible, No Good, Very Bad Day"
When do writers make this move?
Roz shares:
"Writers use Repeaters to emphasize a particular description, character trait, or feeling.
"Using this strategy show that the author is intentionally drawing the reader back to this pattern of words. This can show that something is important, or even communicate a specific emotion of mood…The Repeaters move also provides a distinct singsong type of rhythm to the text. This is a great way to interrupt the monotony of several sentences that follow similar sentence structures."
Roz shares her favorite way to teach this strategy. She recommends sharing lines from a favorite mentor text that uses the Repeaters strategy, like Green Eggs and Ham. She encourages students to study the mentor, investigating what they notice about the repetition and, most importantly, what the repetition accomplishes. She poses the question: "Why do we remember lines from this book?" She explains that writers can steal this move and use it to make our writing more powerful and more memorable.
Check out her chart for this lesson: three reasons Repeaters are useful in writing.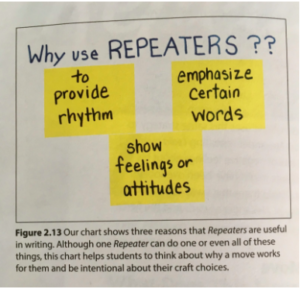 Try It!
I was inspired by Roz's lesson and created two teaching tools to use when leading small groups of students work to improve their writing by elaborating with greater detail.
The first is a demonstration notebook page. A demonstration notebook is a teaching tool that helps students clearly see their writing at one level, and then learn a few strategies to take their writing to the next level.
I included a sample of writing where I was not using Roz's Repeaters strategy. Then, I took Roz's three reasons and strategies to use words that repeat and mapped them out as options for kids to try.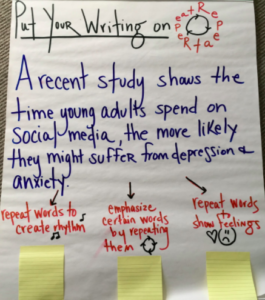 The blank sticky notes below are places for students and me to rewrite the writing sample, improving it right away by using one (or two or even all three) of Roz's strategies. This way, we can do a bit of shared writing so that students leave the small group with collaborative practice of the strategy, as well as a mentor examples to take back to their writing to remind them to use it.
Then, as more kids need the strategy, I can stick on new blank sticky notes, not having to remake my page!
The second teaching tool is a micro-progression. I studied Roz's strategies and reasons why writers use repetition. In a totally informal way, I thought about which strategy was most accessible and which strategy was most sophisticated. Then, I laid them out as 'levels' of that craft move of repetition.
For instance, if a writer isn't using any Repeaters in their writing, perhaps they start by repeating certain words or phrases to emphasize them (level one) and so on. Again, I could grab a few students who are ready for a next level of elaboration in their writing and rally them to study a specific level of this micro-progression.
My favorite part of making and working with micro-progressions is the writing sample at each level. By pushing myself as a teacher to write small micro-examples of writing that shows the level of that skill in action, I understand the writing move in a deeper, more nuanced way. If I can do this move as a writer, I can probably teach it better.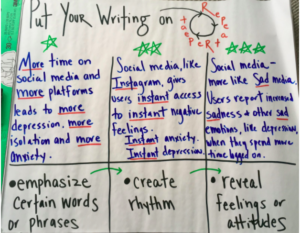 The thread moving through this post is one of repetition:
to repeat words in our writing to create different effects;
to repeat the work of 45 other writing moves Roz includes in her The Big Book of Detail;
to repeat her contagious zest for life and enduring spirit in our teaching practice.
My hope is that Roz's work becomes one of your favorite teaching albums that you don't hesitate to put on repeat as you listen across your school year.
Thank you, Roz.
Please share your own ideas and reflections in the comments below. Or share your own #RozTaughtMe post and drop the link there, too.