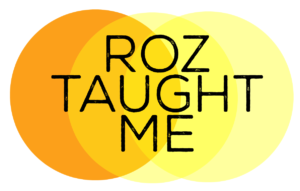 In March we celebrated the legacy of Dr. Rozlyn Linder through our blog series "Roz Taught Me." We accidentally overlooked this post and would like to share it with you now.
While we continue to mourn losing Roz this past December, her teaching, vision, and work lives on and inspires.
Thank you to all who joined us for the Closing Session of our Spring 2018 #TheEdCollabGathering, where we were able to talk and share more about Roz's impact on us and the literacy community. You can watch a recording of that session here.
---
#RozTaughtMe post by Kate Roberts, member of The Educator Collaborative
Now and Then
I adore The Big Book of Details. In it, Roz takes us on a breathtaking tour of practical, powerful strategies all of which center around the skill of elaboration.
I also adore the skill of elaboration. In my years teaching writing, no other skill flummoxes us teachers and confuses our young writers. "Say More," we exalt, but when our kids say "how?" either in words or expression we come up empty so often. "Add details," we say. But which ones? The Big Book of Details has helped me time and time again to have an answer.
Roz Taught Me
One page that is dog eared and coffee stained in my copy is her lesson "Now and Then." In it, Roz teaches us that one way we can create context, backstory, and significance is by juxtaposing the present with something from the past.  An example from my own writing:
"While recently there has been a push for independent reading and skills based instruction, it helps to remember that for most of us, teaching has always meant novels and textbooks – at best."
In this example I use the Now and Then strategy to give backstory and to create context for the debate around whole class texts and independent reading. I also use the strategy to develop empathy for the "other" side of the argument I am making.
How I've Used Roz's Work
So, let's take this strategy for a spin. Recently I was working with some high school writers in Connecticut. They were working on essay writing and I wanted to introduce this strategy. I showed them my writing before using Now and Then:
The new season of Queer Eye for the Straight Guy is surprisingly beautiful. You expect a standard makeover show, and lots of tongue-in-cheek jokes about being gay. You expect the straight men to be transformed into sleek, attractive metrosexuals. But what you don't expect is how touching and profound these transformations become – how much these men were locked into a pattern of withholding – and how just a little love and care from a fellow man can help move not just their style but their life forward.
I then shared that this part felt, in many ways, "done," but that I had learned from my friend Roz that comparing now to the past can help unlock not just new details or lines, but whole new ideas in our writing. I showed them how I could first list out some comparisons on a T Chart, like the one shown in Roz's book (pg. 128).
"See how many new ideas I came up with here?" I asked. I then showed how this list could make its way into my essay by demonstrating quickly a new section for my essay:
While the original season of Queer Eye introduced much of America to gay men, and sought to earn their tolerance, this modern take assumes tolerance from the start and demands respect. The hosts are bold, proud, beautiful and not looking for your approval. In fact, while sometimes the original show felt like an attempt to get you to like us, in this show the tables have turned – here the straight men wind up hoping to please the gay hosts of the show.
The kids then worked on creating their own T-charts of Now and Then and incorporating these layers into their writing.
Of course that is high school. In younger grades it might look different, but the work is inherently the same –
1. Find a place in our writing where we want to say more.
2. Create a T-Chart of Now and Then comparisons.
3. Look for places to tuck these details into our writing.
Try It!
I adore this strategy. It works in all kinds of writing: narrative, argument and informational. It is a power move that can add all sorts of layers to our writing – context, contrast, empathy, and significance. Sometimes this strategy gets us to add a line or two, but more often it proves truly generative, showing us whole sections of our writing we hadn't seen before.
I adore Roz's work and her legacy. May her words and deeds live on in all of us.
Please share your own ideas and reflections in the comments below. Or share your own #RozTaughtMe post and drop the link there, too.